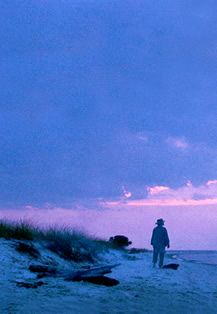 "Walter Anderson: Realizations of an Artist" explores Anderson's life and art, from his student days to his last trip to Horn Island in 1965, during Hurricane Betsy. Using never before seen film footage, as well as artwork and archival photographs, this one-hour biography traces the extraordinary life of the fiercely independent artist.
Interviews with family members, artists, and art critics describe Anderson's struggle to survive during the Depression, his hospitalizations and subsequent escapes, and his eventual triumph as an artist.
Born in New Orleans and trained at the Pennsylvania Academy of the Fine Arts, Anderson had a spiritualist side that resulted in a lifelong search. As a student, he set out to visit the mystic G.I Gurdjieff at Fontainebleau, as well as the Paleolithic murals at Les Eyzies. He walked across war torn China in 1949, hoping to visit Tibetan monasteries. And on many occasions he set out from Mississippi on cross country bicycle trips––to West Texas, Florida, Pennsylvania, and New York––painting watercolors and writing along the way. "He believed," says Washington Post art critic Paul Richard, "that somewhere down the road, he would find the enlightenment he sought. It was a religious quest as well as an aesthetic quest."